What to do in St Barts
Are you coming to visit Saint Barthelemy soon? In this article, you will discover with our car rental agency all the must-do's on our beautiful Caribbean island.
Visit Gustavia the capital of Saint Barth
Capital city of the island, Gustavia is a charming little town with its red-roofed houses, its marina and its beautiful monuments. You can visit its twin forts, discover its old buildings such as the House of the Governors and the Dinzey House, or admire its small picturesque churches.
The city is ideal for daytime strolls to discover its tourist attractions. Gustavia will also delight travelers looking for parties and entertainment after dark. The capital of Saint Barts also hosts many festivals and cultural events. Be sure to check the calendar of events before or after your arrival on the island.
Take a tour of the beaches of St. Barts
Saint Barth is obviously home to many heavenly beaches. You will have the choice between beautiful stretches of sand and small charming creeks. You will find them all around the island: Anse Colombier, Anse des Cayes, Grand Cul de Sac, Shell Beach or Saline beach.
We strongly recommend you to discover Anse Colombier to the northwest, a vast and beautiful stretch of fine sand. Anse des Cayes, a few steps away from Gustavia, is recommended to all surfing enthusiasts. A little further south, you can also discover Nikki Beach, with its turquoise waters, white sand and charming seaside restaurants. This beach is ideal for lazing around or enjoying a cocktail with your feet in the water. In Gustavia itself, you can also enjoy the beautiful Shell Beach, a small beach surrounded by beautiful rocks.
Most of the beautiful beaches of st Barth are fortunately quiet. You will generally come across few tourists. You will be able to fully appreciate the exceptional views that are offered to you and thus enjoy a delicious moment of idleness. To access certain beaches, having your own vehicle is a good idea. You can then easily reach the less accessible beaches and enjoy their peaceful atmosphere.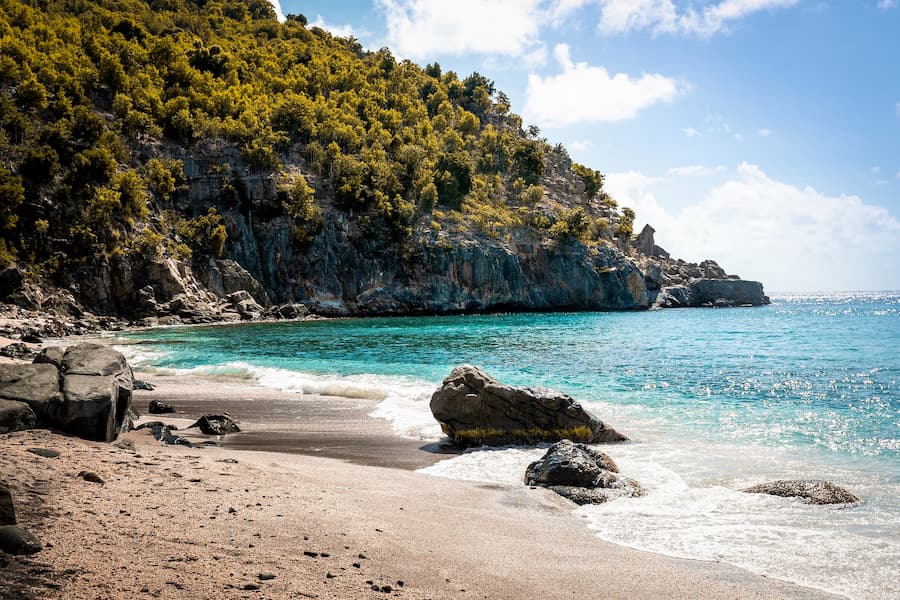 Walking around Morne du Vitet
The Morne du Vitet is the highest point on the island. If you come to visit Saint-Barthélemy, you absolutely must climb to its summit. You will enjoy a panoramic view of the island and breathtaking panoramas!
Fortunately for travelers, the Morne du Vitet culminates at only 286 meters of altitude. It therefore offers hikes that are both enjoyable and accessible to all. On your way, in addition to the incredible views, you will be able to admire charming small traditional huts and some beautiful pieces of nature.
Numerous roads surround and traverse the foot of the morne. The island is easily visited by car or scooter. With your own vehicle, you will have no trouble reaching the hiking trails at the foot of the Morne.
Visit Wall House: the history of St. Barth
Located at the Pointe de Gustavia, the Wall House is a must-see in St. Barts. This old building houses the Gustavia Territorial Museum. It will delight history buffs and all travelers who want to learn more about this beautiful island in the Lesser Antilles.
Visit Fort Gustav and Fort Karl
If you come to visit Saint-Barthélemy, you can't miss Fort Gustav and its neighbor Fort Karl. You will find the first one by going up the street of the old town hall. You can then admire the pretty lighthouse of the city as well as the cannons. All of them are nestled at the top of Fort Gustav. Up there, you will enjoy a superb panorama on the whole city and even on the islands of Saint Kitts and Saint Eustatius if the weather is good!
Opposite Fort Gustav is its neighbor Fort Karl. Don't forget to visit it during your stay. You will also enjoy a beautiful view of the city and the surrounding area. At the foot of Fort Karl, you will find the beautiful Shell Beach, mentioned above. So don't miss the opportunity to discover both!